Katrina Kaif started her career when she was just 14 years old in age when she started her career. Thereafter, she continued doing many modeling assignments and entered South Indian film industry. Later, she made her Bollywood debut with a movie called Boom which did not do much good for her career. Later on, she grabbed some major B Town movies that helped her make her mark in Bollywood. Today, She happens to be one of the most successful and beautiful ladies in Indian cinema. She also took up Hindi speaking classes and Dance lessons to do better in Bollywood!! Today We present few Images of Katrina Kaif without makeup :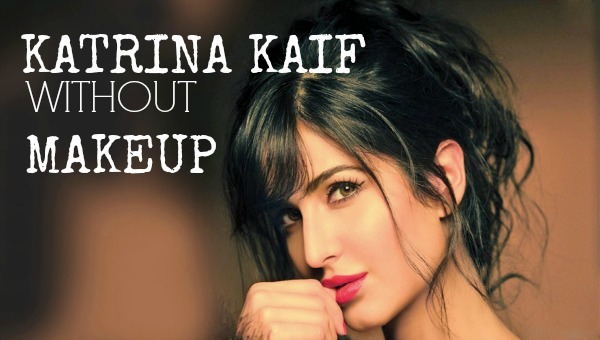 Katrina Kaif Without Makeup :
Katrina's pore less, porcelain complexion, naturally healthy skin and pretty face cuts along with long, lustrous hair make katrina's beauty a topic of much talk!! True, that makeup does a lot to make any Bollywood beauty appear gorgeous but Katrina has been spotted many a times, without any a speck of makeup on her face to break the popular notion that actresses do not have any natural beauty. Katrina Kaif, now supposedly, engaged to Ranbeer Kapoor has natural beauty and also the confidence to flaunt it in public. We have to say, Katrina looks equally pretty even without layers of makeup, required by her profession.
Naturally beautiful skin, a perfect hourglass figure and smoothly textured hair locks come at their own cost which includes a lots of discipline in skincare and dietary habits. Katrina kaif, who is going to turn 32, this July, drinks a lot of water throughout the day and prefers to keep her skin free from makeup, as long as she can afford to. She includes a lot of boiled vegetables, fibre and fresh fruits in her diet for naturally healthy skin. We can see where that radiant glow is coming from !! She indulges in rich skin oils, cleansers, night creams and face masks to take care of her skin and ensure that the damage done to her skin while wearing lots of makeup and exposure to all sorts of environmental factors including bright halogen lights, while shooting is reversed by following a strict skincare regimen. She also works out in a gym and does yoga which are needed to cleanse the facial pores and impart a healthy glow.
Let us get to know a bit about what makeup products, Katrina likes to use while she is shooting or attending an event:
As a day to day moisturizing lotion cum sun block, Peter Thomas Roth Max Daily Defense Moisture Cream SPF 30. Katrina very well understands that sun exposure causes permanent damage to skin at micro cellular level and is responsible for Premature ageing and patchiness.
As a light textured tinted lip colour, Stila Lip Glaze in shade Apricot. She is mostly seen in nude to soft lip colours and rarely wears shades that are too loud. For a flush of colour across her cheeks, Giorgio Armani Sheer blush. Even without the blush, she has pleasantly pink flush on the apples of her cheeks.
Max Factor 2000 Calorie Curved Brush Mascara to enhance her natural, doll like eyelashes. Saint Laurent Mascara to enhance the eyes. MAC Kohl to line the lower lids. Make Up Forever Camouflage Cream Palette concealer as it is light in texture.
However, this does not at all mean that makeup is a must for her. The young lady has been spotted numerous times without any makeup and not once has she failed to impress us. Stepping out without a full fledged makeup, signifies a lot of strength of character, not caring about what people expect out of her. She wants to enjoy her freedom and does not want to be a mere eye candy for the shutterbugs, all the time. Also, Katrina was bold enough to do de glam roles like the one in Rajneeti. It seems like Bollywood actresses have decided to change the norms and perception of people that they can appear in public even when they are not all decked up.
Have a look below to appreciate a few pictures of Katrina Kaif without her makeup:
The paparazzi managed to take this picture during the screening of the movie "Ek Tha Tiger". She was casually dressed in a black and white outfit with no obvious makeup on her face, not even a lipstick. She just had a hint of kajal in her eyes and that is pretty much it. The lady has confidence in her looks and the way she carries herself!! In this particular click, Katrina's eyes look a little tired and dark circles are somewhat apparent probably, due to her tight work schedule but it is very much appreciated that the lady did not feel any need to hide her imperfections with a concealer and instead decided to show up, the way she is!
This one was clicked while Katrina was traveling somewhere from the Mumbai airport. We can gather from the picture that she is wearing no makeup as the complexion looks a little patchy, not in a bad way though. She looks stylish, none the less and there are no major flaws that we can find out with her sans makeup look. Her lips look well taken care of though with a nice lip balm.
This picture again, was clicked at some airport. It seems Katrina prefers to go easy on makeup while she is traveling to let her skin ease out on the harsh chemicals. She does not care much about pictures being taken as she knows that she is pretty presentable even without her makeup in place. We cannot agree more Katrina; you look nice in those sunglasses. Again in this picture, katrina does not seem to be wearing any foundation, concealer or a lip colour.
Now, I am so sure that none other actress would be so happy posing for the shutterbugs as she is. There is literally, not a speck of makeup on her face at the moment. Not even a line of kajal to define het eyes. Still, her skin looks nice, acne free and plump. She looks a bit tired in this particular picture, though. We like ladies who play it real and do not feel the need to hide behind a veil of makeup all the time.
This particular picture dates back to 2010 while Katrina was shooting for the movie, ' MERE BROTHER KI DULHAN". This was clicked at the Golden temple, Amritsar. Again, an outfit so plain and a makeup free appearance. She does not need makeup to hide anything. Using makeup only enhances and compliments her natural beauty since she as well as her siblings are blessed with a wonderful complexion and good skin texture. However, the salwaar kameez that she is wearing is ill fitted and is a bit of a turn off. You can at least wear clothes that fit you Katrina!
She wore this plain white salwaar kameez and chunni while she visited the dargaah of Khwaja Moinuddin Chisty to pray for the success of her movie Rajneeti. Her skin looks nice and flawless and we are in no way denying her drop dead gorgeous looks! The only imperfection that can be pointed out is that her eyes seem a little puffy.
This is another pic in a simple white top at an Airport where Katrina was spotted yet again with no makeup at all. The face shows a few signs of redness probably, that is why Katrina has chosen to go sans makeup. She looks beautiful though, with half tied hair. You could smile a bit more Katrina for the pic and we would have never noticed the red rash on your face. You look just about fine even without makeup.
Spotted in this cool tee with the caption my boyfriend is a vampire, she ditched makeup totally, on more time. She was found wearing these cool shades and her skin looks nice and clean with just a little bit of greasiness. In this picture, she has skipped any accessories to go with her outfit too. Also, she styled her hair in a casually knotted bun. You rock Katrina! This is one of your best de glam pictures.
The above picture shows Katrina on a pleasant after noon looking elegant and innocent as always with nothing but a little kajal to line her eyes. She is not wearing any lip colour in this picture too. It shows how simple Katrina is in her life, behind the cameras. Her hair are casually tied. A very no frills attached kind of a look. She is cute girl next door!
While she was commuting to some place in her car, Katrina was captured by media in this vibrantly colored, floral print dress. She has no makeup on, as is evident from the pictures but manages to look simple and beautiful, as ever. She is looking rather somber in this no makeup appearance.
Yet another public appearance, at some casual party, where Katrina showed up sans makeup looking cute and elegant in this Lemon yellow frock style dress. She kept her hair loose.
We hope, you enjoyed going through the pictures.