The celebrities are always admired and followed just not for their profession but also for their looks. We all secretly wish to copy them and be like them. There are times when we keep guessing their beauty secrets and the guess never ends. we try ample products to get that glamorous look, but fail to achieve it.They are so well maintained irrespective of their hectic schedule. They age gracefully and we wonder how. Here are some of the beauty secrets revealed:
 Celebrity Beauty Secrets :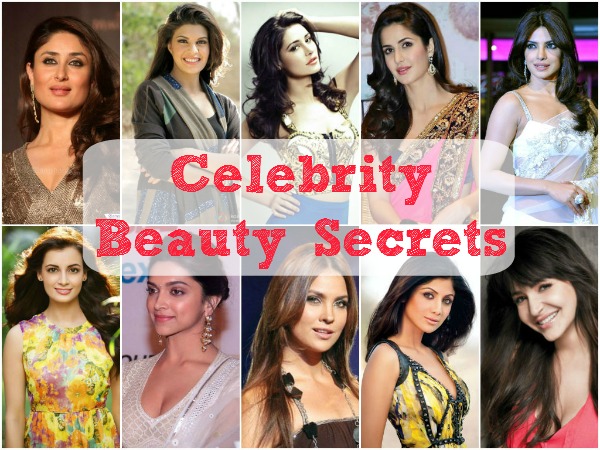 Today we reveal some of the most useful Celebrity Beauty Secrets from the Bollywood Divas you love. learn their secrets and become as gorgeous as your favorite diva.
Aishwarya Rai Bachchan:
Aishwarya Rai Bachchan is considered the most beautiful women in the world. Her curvy figure and mesmerizing eyes can definitely attract any mankind. She has voluminous hair and takes great care of it. Oiling and hot oil massages are must for her. Her skin care includes yogurt, gram flour and milk. Deep cleansing and moisturizing the skin also adds to her beauty. She ignored the media when her weight was questioned. She proved them all wrong gradually. She is back with a bang.
Dia Mirza:
The winner of Miss Asia-Pacific in 2000 has a great flawless skin. Cleansing and toning are important to her along with nourishing the skin. She is very keen in applying sunscreen and then stepping out. She takes off her makeup every night. She avoids fried and junk food and clings to basic homemade food. She is a fitness freak and exercises regularly. Her hard work is seen through her skin.
Lara Dutta:
She has been practicing yoga since 12 years and have launched her own dvd. She takes a large breakfast, medium lunch and smaller dinner. Soups and salads are a part of her diet. She avoids junk and fried food. She uses almond oil and Vitamin E oil for her tresses. She keeps her skin care very simple and effective. Yoga keeps her fit and sexy. Her skin care routine is also very simple as she relies on homemade products.
Kareena Kapoor Khan:
She has inherited her flawless skin from the Kapoor family. She was the trendsetter of zero size in Bollywood and everybody was complexed at her size zero figure. Rujuta diwekar was her dietician and nutrition expert who helped her to tone the body and get those curves. She also perform surya namaskar everyday to keep herself fit. She removes the makeup before hitting the bed and keeps herself hydrated. The pataudi family bahu is the most desirable one in the fashion industry.
Hema Malini:
Talk about dream girl and Hema Malini just strikes. She is the desire of every man now and then. She sticks to her vegetarian diet and follows prefer organic products. She is a classical dancer which is her fitness mantra. She prefers water to any of the juices. She takes care of her skin by following the ancient way of cleansing and toning.
Rekha:
The glorious diva in her 50s is still graceful as she was 20 years backs. What could be her secret? She believes in oil massage for her hair and uses a mild shampoo and conditioner to keep it intact. She prefers salads, soups, chapatis and green vegetables as her diet. Dancing has been her passion and also serves as physical exercise. She defined her eyes with kohl.
Jacqueline Fernandes:
This Sri Lankan beauty is super hot and sexy. She is bold and sensuous. She believes in following the basic skin care such as cleansing, toning and moisturizing. She applies less of foundation to get that even tome. Rose water is her best friend. Fresh fruits Juices keeps her hydrated and active.
Nargis Fakhri:
Being a Kashmiri itself adds to beauty. She has a white skin tone which sets her apart from the rest. She solely depends on tender coconut water during her shoots. For her skin care she uses a sunscreen and deep cleansing methods. She also loves body spas and hot oil massages.
Shilpa Shetty:
This international beauty has shot fame after being a winner in big boss (UK version). The long-legged and curvy body is an asset to her beauty. She is  a yoga practitioner and had launched her own dvd to help other women to lose weight. She is conscious about her diet and ensures green salads and fruits are added. Her calorie count and fitness exercise can complex any fitness freak. Her smile is also mesmerizing.
Priyanka Chopra:
The versatile actress is just not blessed with beauty but also with a great voice. She has great acting skills along with a beautiful body. She departs from the makeup before hitting the bed. Secondly she prefers minimal makeup as skin needs to breathe. Cleansing , toning and motion is apart of her daily routine. Hair spa and hot oil massages are a must for her hair. She prefers changing her exercise to give a different flavor to her body.
Katrina Kaif:
The london based beauty has created a stir in Bollywood. The Barbie doll has given back to back Bollywood blockbusters and have created a space for herself. Her flawless can allow her to go makeup free. She uses natural products which are chemical free. She loves breathing fresh air and loves outdoor exercises. She prefers healthy food which has ample nutritional benefits.
Anushka Sharma:
She uses tea tree oil and is a great fan of organic product. The body Shop is her favourite brand and most of the products are picked from there. She depends on aroma products for its benefits. She cleanses and detoxified body using natural process which enhances her beauty. She drinks lots of water and fresh fruit juices. Gymming and swimming are her favourite form of keeping herself fit.
Deepika Padukone:
The national level badminton player is fitness freak and ensure that sports keeps her active. The long-legged beauty has radiant skin and toned body. She follows natural methods of cleansing and toning such  as milk and honey, rosewater and so on. Her acting skills have raised her to fame in a short span of time and she is the desirable actress in todays time.
Karishma Kapoor:
The Bollywood diva is again a part of kapoor family and has inherited her skin tone and texture from the family genes. She is blessed with natural and hence does not have to struggle with skin maintenance. A strong sunscreen is what she prefers apart from cleansing and toning the skin. Olive and coconut oil helps her tresses to be strong and healthy. She follows hair spa and deep conditioning treatments. She experiments with her diet chart and ensures no extra calorie is being taken into.
Vidya Balan:
The bold and sensuous actress is mostly seen in dangling earrings and sabyasachi sarees. She loves to flaunt her curves in the Indian way. Sari are her favourite and she adores wearing it. She uses herbal products for skin and hair care. Her profession demands a lot of makeup to be applied on her face, MAC tissues are always handy. She wipes off her makeup completely after her shoot. Water and fruit juices helps her in maintaining the radiant glow.
Hope this article had been useful to you. Do follow these simple beauty secrets of the celebrities which might help you out as well. Remember, every individual has different skin and body, and the product will also vary accordingly. Hence, do not expect great results. Use products that will suit your skin type. Be patient for the results.