Tired of applying all the ways to look prettier? Have a makeup kit, but not sure how to proceed with the products? Yes, applying makeup is an art. I am sure none of us would want to look like a vamp with tons and tons of makeup on our face. We cannot step out without makeup, the only possible thing which we can do is learn to apply makeup like a pro. You need to invest your money and time in the beginning as the products you purchase should be of good quality. Here are the tips:
Professional Beauty Tricks :
Here are the secret tips every professional makeup artist swears by. now you can be one of them , with this easy guide.
Purchase Some good makeup tools: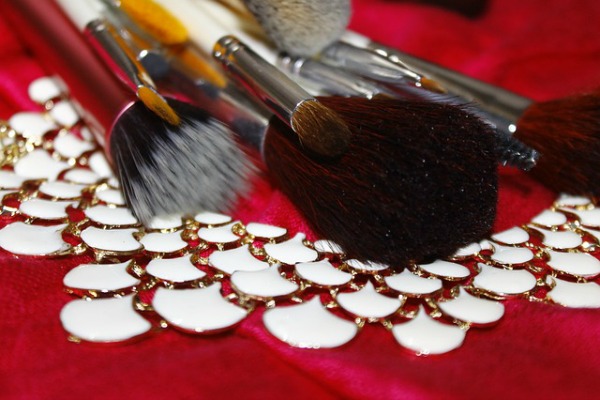 Good products and good tools are essential to look pretty. There is no use of having branded and expensive products without the right tool. The right technique along with the right application of products at the right place will enhance your beauty. Purchase a foundation brush, concealer brush, fluffy powder brush, blending blush, flat eyeshadow brush, blush brush, lip brush and angle brush. These are basic brushes which are essential for your makeup. You can choose the brand as per your budget, but ensure that the quality is superior. The next step is to know how to handle the brush. Do not be too close to the barrel as the pressure will differ depending on how you hold the brush. Your handling position defines your control over the brush. Thus, hold at the centre of the brush and be gentle.
Face Makeup:
As we all know, cleansing, toning and moisturizing your face should be a part of your beauty regime. The skin should be dirt free before applying layers of other products on it. Once you have nourished the skin, go with a foundation. You can mix primer with foundation for better effects. This will give you a perfect blend. You can go with liquid foundation or cream based foundation. People with oily skin should use a damp sponge to give the final look. Dry skin can just buff to get an even shade after applying the foundation. Ensure that the pressure is more at the center of your face while using the brush. Mismatch would give an unprofessional look. You can also use your fingers if you do not have makeup brushes. You can use a concealer to hide your blemishes and dark spots. Do not over do it. Just apply with a point of hiding the blemishes. Apply a compact powder to give the final touch to your makeup. Choose a shade which is natural to your skin or a shade lighter to your skin. The products have formed a layer and have blended into the skin. Contouring is an art of highlighting and shading, you must master it. Apply bronzer on cheekbones to highlight them and give a beautiful look. The shade combination is a must to know before applying any bronze.
Eye Makeup:
The eye consists of inner lid, outer lid, lash line and brow lines. You must neatly define these parts to make your eyes look pretty and prompt. Let us start with the under eye area. Use a concealer to hide those dark circles. It makes your eyes look dull and black. Dab some concealer. Use a bronzer at the crease of the eyes as they tend to lose elasticity with age and time. Do not neglect them. Apply black kohl to both inner rim of the eyes, upper as well as lower. Define a shape. Let the kohl be dark and recoat it. Take a black eyeliner and apply it to your eyes, start from the inner corner to outer corner. Close your eyes for five minutes to allow it to dry and prevent from getting smudged.. Take an eyebrow pencil and darken it meanwhile. Let it look natural. Apply Mascara on your lashes both lower and upper. Your eye makeup is done. The eyes will look broad and well defined apart from giving a mesmerized look.
Lip Makeup:
When we talk about lips, remember the different areas. Upper lip, lower lip, Cupid's bow, lip line and outside corner define our lips. Apply a foundation on your lip. This will help you in defining your lips. Take a lip liner and outline the lips. You can use the same colour as of your lipstick if you want a natural look rather than making it prompt and obvious. Now use a lipstick brush to apply the lipstick on your lips. Start from the cupid's bow and move downwards to reach the outer corner. Slowly move to the centre of the lower lips. This is the right way to apply a lipstick. It will give you an even finish.
Tips:
Use light color to give a fuller appearance as light colors reflects light.
Avoid dark colors if you have thin lips as they absorb the light, making your lips thinner.
Dab some gloss on the top most area of the Cupid's bow and the center of lower lips.
Hair Styling tricks:
Our tresses equally needs to be cared and considered apart from the face. Imagine a perfect makeup look with the shabby and uncombed hairstyle. It will ruin all your efforts. Oiling, steaming and drying your hair must be a part of your hair care regime. Avoid harsh chemical products and excess electrical products as it will lead to hair fall gradually. Do not neglect your scalp. Keep it clean and dandruff free.The roots must be healthy for better growth. Here are some of the tips:
Find your hair type:
Knowing your hair makes a lot of difference. Every individual has different texture and hence diagnosing your hair is very important. Wrap your hair in a ponytail using an elastic rubber band. If you can wrap in a single shot, you have thick hair. If you use it twice or thrice, then the hair is of medium types and above that the hair falls in thin category. The next step is to find out  the texture of your hair, whether it is wavy, curly or straight.
Buy Products:
You have to choose your products depending on the hair type. Your hair style also depends on the hair texture. Decide you would prefer a curly hair look or a straight one. Buy shampoos and conditioners accordingly.
Dry your hair:
Do not comb or tie your wet hair as it will lead to hair breakage. Use a towel or a blow dryer to dry your hair. You can use a mousse or a gel to set your hair. Apply when the hair is wet.
Right tools:
If you have curly or wavy hair and would love to go with a straight look, try a straightener. Buy a branded hair straightener which has ceramic plates and have temperature control options. Apply a hair straightening cream or gel before using the electrical products. Do not be harsh on your hair.
Accessorize:
You can use a headband and let your tresses flow loose.
You can tie a pigtail to give that cool look.
You can also make a bun and get that professional look.
You can braid it and be in a casual look.
Puffs are also stylish.
Hope this article had been useful. These simple and quick tips will definitely help you to grab all the attention that you have desired for. Be careful while using the electrical products and makeup tools. Be choosy with the color combinations as well. Please ensure that your makeup goes with your attire and the occasion. Do share your feedback with us.