Eyes are of several different colors and are naturally made to suit your skin tone and hair color perfectly. Moreover there are so many tools now available to enhance your eyes and make them the focus point of your makeup. There are various kinds of liner, whether liquid, pencil or gel, so many different eye shadows, of so many different colors to compliment eyes of different colors. And mascaras give the finishing touches and help in making your eyelashes fanned out, fun, and flirty. To be honest, you should consider yourself a bit blessed if you have brown eyes.
Makeup Tips For Brown Eyes :
Brown eyes are the easiest to decorate and its very simple to get the perfect eye makeup under your belt. On the color wheel, there is no opposite or complimentary color for brown. Which means that pretty much any color suits brown eyes. This is the best part about brown eyes, you really don't have to sweat it on what colors would compliment your eyes, or which colors will suit you the best, you can pretty much go with any color. Yes, this is true that the shades of brown might differ, and yes then the colors you choose to decorate your eyes with might compliment them better or enhance them in a better way but they won't just make or break your look. Brown eyed beauties are literally spoilt for choice. So determining your shade of brown will really help in bringing the best out in you. So the first step in your makeup if you are a brown-eyed beauty is to determine what shade of brown your eyes are. Brown can be divided in to three shades: deep brown, medium brown, and light brown. If you have really deep dark brown eyes that can pretty much pass as black eyes, then your best bet would be to go with colors that are as deep and dark as they will compliment your eyes beautifully. Eyes that are medium brown in color are the easiest to style amongst brown eyes, as pretty much all colors suit them, but the color that suit them the absolute most is green. Finally light yellow complements light brown eyes the best as this color enhances the golden flecks that are present in light brown eyes.
Choosing the right color is key. The rule of thumb for choosing a color is simple, light colors really brighten up your eyes and really enhance the size of your eyes making them looker much bigger and also bring more focus to them; Shades that are darker in color, on the other hand, contour and also minimize. Yet another very important and useful tip for emphasizing brown eyes, that is sometimes overlooked is that you should always liners in dark shades in conjunction with shades that are lighter in color. This will also make your eye appear bigger, and brighter. In other words, this combination really makes your eyes pop. As mentioned before, Shadows in darker shades compliment dark brown eyes. Therefore if you have dark brown eyes, colors such as very rich greys, really dark greens, and deep plums will suit you the best. If you observe the tiny lighter colored flecks in your pupils, choosing an eye shadow that will complement you the best will be much easier.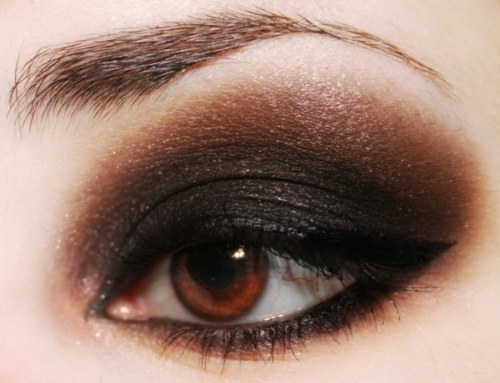 If you have eyes that are medium brown in color, then the world of eye make up including shadows and liners is your playground. You can try getting creative with colors such as green, bronze and violet. In fact, you can go more creative and use different colored eye shadows in conjunction with each other to go for a more dramatic look with several different dimensions to it. If your eyes are of a lighter shade of brown, then your best bet would be to observe and understand the lightly colored flecks that are in your eyes. If you notice your iris carefully and see that there are flecks that are golden in color, then go with a yellow eye shadow or an eye shadow that has a yellow undertone. This will really highlight your eyes and make them pop. However no matter what shade of brown your eyes are, you want your eyes to stand out and be in the centre, not your eye shadow. So if you don't want your eye shadow to hog all the attention, be careful not to use a really dark shade overall, use it just in the crease and you should be fine.
Always start with a good primer before applying the eye shadow of our choice. A good foundation is always necessary, whether we are talking about education or makeup. A good primer will set you off on the right off. You will have a smooth base to start your work on, a really good blank canvas, if you will. A good eye primer will also ensure that your eye makeup stays on for a really long time, ensuring that all your hard work doesn't just go to waste in a few hours. It will also ensure that you get smooth eye makeup, by making sure it doesn't clump. Choose a primer that is very near your normal skin tone, and use a makeup brush or your fingers to apply it.
Once you have selected your primer, gently blend it in to your eye lid. But don't just stop at your eye lid, go up to your brow bone, as you are going to be applying eye shadow over there as well. You always apply the lighter colored eye shadow first. Spread it evenly over your eye lid up to your brow bone. Reserve the dark shadows for the outer corner of your eyes and to enhance your crease. Another really important tip for people with brown eyes, is that you should use a shimmer in the inner corner of your eyes. This will really brighten your eyes and make them appear bigger.
As mentioned above, you should always use the lightest shade first before going on to darker shades. This can't be stressed enough, as you can't use a lighter shade on top of a dark one, as it wont be visible, and your only two options would be to either just go with it or erase your whole eye makeup and start all over again. Refrain from using really dark shadows on your brow bone, unless you really want to dramatize your look. But if you want a more cleaner day look, use lighter shades on your brow bone, this will also make your eyes look more open.
Liner is your best friend when it comes to defining your eyes. Using liners in shades of really dark brown and colors like mauve really enhance your eyes. If you want to add a bit more drama to your look, try using liners in shades such as bronze and/or pure gold. This will also lend a metallic look to your eye makeup. For lighter colored dark brown eyes, green liners as well as purple liners will lend a really fun and flirty look to your eyes. And if metallic is the route you want to go, you can try metallic shades such as bronze, copper, and gold.
If you have light brown eyes, black liners will look too harsh, opt for a more dark brown liner. The general rule you should follow is that light colors are meant for light-colored eyes, while dark brown colors are meant for dark brown eyes. If you have extremely light-colored eyes, that look nearly hazel, shades of champagne with colors such as bronze, violet, or brown will look the best. Another really simple trick you can use to really make your eyes pop is that you can use a liner in a darker shade on your upper lid, and then you can use a white or nude colored liner in your waterline. This will make your eye look really big and wide.
Mascara is the last step to making your eyes pop. Use lots and lots of mascara. Use a good eye lash curler to curl your lashes and give it a more fanned out look. This will automatically make your eyes look bigger and much wider. Use a waterproof lash thickening and lengthening mascara. Apply two coats, wait a while and then apply more coats if you want. Wait in between coats to let the mascara dry as this will avoid clumping. Applying a bit of powder and then applying mascara will make them appear fuller and thicker.
If a natural look is what you are after, then try mascara in a shade of brown, and for a more dramatic look try navy blue or jet black.
Some tips and tricks:
If you have light-colored eyes, that are nearly hazel, and you want them to appear green, try using an eye shadow that is green.
Always check the lighter colored flecks in your eyes to determine what eye shadow will suit you the best.
To make the whites of your eyes appear whiter, try using a white or blue pencil in your waterline.
Nudes suit all shades of brown colored eyes.
Use mascara
Don't forget your lips!
So we hope these few tips were helpful for you to dress up your Brown eyes better . Just have fun and create different looks everyday. Remember that it's best to have fun and be confident, you can wear any makeup look with ease.